February 6th, 1999


BLUE ROSE TRIO opened the night off with myself on gtr, Crisco on drum, Jack
on Organ, Richard Asscunt III on continental gtr and Piper on bongos. What a disaster!
The crowd walked out on us; when we finished they came back in clapping. When
RIOTSTARTERS took the stage the 140 something people that stuck around witnessed
the worst RIOTSTARTERS show ever. Period. Toby, manning the drum throne, kept
it up but we had no monitors. "Big Deal" went well since that was a debut.
I didn't stick around but the other bands of the night were THE SWEATHOGS, LID,
and TRIPWYRE.


Set Lists
BLUE ROSE TRIO
How To Clear A Room In One Easy Step

RIOTSTARTERS
Drinking Song
Temporary Name
Living Off Capitalism
Kara
O.M.S.
Big Deal
England, Keep Yr Stars
Buzzard / I Walk Alone
Hey Suburbia
Lowrider
Knowledge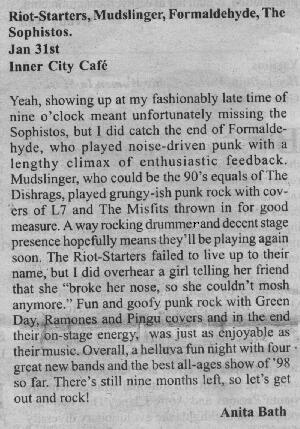 from PHAT #1 mar/apr 1999

---