Syke's 24th Birthday Bash
WITH:
RIOTSTARTERS
THE SATISFYING FEW
BLUE ROSE TRIO
THE MAKE-SHIFT 7
and
THE DERIVATIVES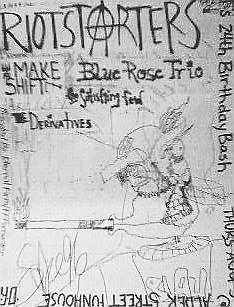 Syke plays in all of these bands so without further adieu:
THE MAKE-SHIFT 7 started the festivities by taking away 11 minutes of yr life. My new band, THE SATISFYING FEW, consisting of Myself on bass, Jimi D. on gtr, Moe Chunks on gtr and Jimbo on Drums, played a great 4 song original set. RIOTSTARTERS played their last show with Toby and delivered a top notch performance. The brat has one more show to play and then he's gone too. THE DERIVITIVES came up next for fun and jamming. Random from my first Vic band, MY FAVOURITE VILLAIN, joined me onstage for the 1st time in 3 years for a cover of "Supermarket Fantasy" with Probe from his new band, LAST LAUGH singing. Me and Jimi with this guy Alex V. drumming and Probe singing again, covered "INSTITUTIONALIZED, the ol ST classic. Crisco played drums on 2 songs, and Jimi and I even busted out a 3-piece version of RIOTSTARTERS "Big Deal" with Alex drumming blindly but spot on. BLUE ROSE TRIO finished the night off with the avant-jazz-sound-core you know can only be produced by a bunch of drunkards playing noise at 12:45ish PM. Thanks to Jimbo and Kat for the stage and everyone else for stopping by...

Heart, Syke


SET LISTS
THE MAKE-SHIFT 7
24 And So Much More (Not To Be A Thief)

THE SATISFYING FEW (Set 1)
Beastial Fury
Wendy's Sucks More Than Ever
Tuning Song
Angry Dying Wasp

RIOTSTARTERS
Kara
OMS
Drinkin' Song
Buzzard/I Walk Alone
Blitzkrieg Bop
I Inhale

THE DERIVATIVES
Supermarket Fantasy
Institutionalized
At The Library
Hey Suburbia
Big Deal
Milk It
Floyd The Barber

THE SATISFYING FEW (Set 2)
Tuning Song
Beastial Fury
Wendy's Sucks More Than Ever
Angry Dying Wasp

BLUE ROSE TRIO
Louder Than Any Man Could Ever Scream (Take 24)

---